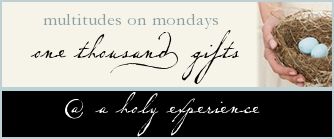 Keeping step with
September's Joy Dare
, these are my praise offerings for the last week:
*The 3 faces in our family that smile at me from above my desk
*My degree…I earned it only by Your grace & favor, Father
*A precious girl…one of Mommy's favorite gifts
Sept. 10 - 3 Gifts Moving
*Moving my body in the pool
*God moving me to draw closer to Him
Sept. 11 - 3 Hard Eucharisteo
*Thankful for heart-changes when marriage gets tough
*Thankful for learning to praise in the midst of falling apart
*Thankful for old rough patches that give me perspective today
Sept. 12 - 3 Gifts in His Word
*Praise unending throughout the Psalms
Sept. 13 - A Gift Scented, Scrawled, Started
*New Scentsy bar that makes home smell good
*Doodles & drawings from my little artist
*The gift of exercise begun!
*Drawing of Hayden's precious face, drawn by her Sunday School teacher while visiting Nanny in VA
*Rendering of our family done in dry-erase marker on the whiteboard
*Pictures found on all kinds of documents, showing me how she sees the world
Sept. 15 - 3 Gifts Paired
*A pair of really comfy flip-flops
*A pair of snuggly warm fleece socks
And a few of my own making:
*Another year of life for my Hubbs & a party with friends to celebrate it.
*5 miles of swimming; sore arms; accomplishing a goal
*Thick & heavy Life Group discussion on the Sovereignty of God--thank You that You have hidden these things from me; they are too great for me to understand!
*School drop-offs are a breeze :)
Thank you for these. All of these. :)