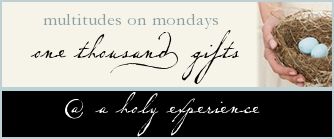 It's been
determined previously
that Mondays are a special kind of difficult. That difficulty is all the more reason to praise and thank; to worship He who is worthy of praise; He who has given.
Think of this sentiment as a bylaw to
the

Law
; one that is no less imprinted on the heart; on the mind. Not singular to Monday, only, but suitable to any difficult day. In fact, He speaks on it in his Book; enjoins us that this is to be the way of things:


It is clear: Once accepted, continue to follow; let the roots grow in Him; allow a life built on Him; THEN faith will grow STRONG IN THE TRUTH and you.will.overflow.with.thankfulness.

Thankfulness is an outpouring--unavoidable; it rushes, surges, brims over when we follow and grow and move our own plans for our lives aside to make room for His. It comes when our faith has been made strong in the Truth; Truth that has been tried and tested; Truth that has been revealed to us in the hottest part of the fire. It comes when He has allowed that which we do not; cannot; sometimes, will not comprehend to bring us into the dazzling light of His Truth; His love; His desire for us. These things prepare us to pour out the thankful. And when we tip the bowl of our thanks to spill out in praise, may we ever be conscious...willing...sincere.

Let these praises fall from my lips:

*Sunshine on my skin
*Smiley Faces in texts received
*Sticky Notes full of scheduled Tutoring Hours
*Cool Breezes on Autumn Days
*Warm Cookies from the Oven
*Sun-soaked Treetops in the Morning--splendor!
*Metamorphosis of the leaves
*Delicious autumn-flavored coffee
*School tracing out a routine for our family
*Growing in Christ
*Watching Hayden grow
*My desire to make new habits
*Cleaning up barf at 3 am...yes, even this; a gift of sacrifice
*Praying for a friend in need of healing
*Making homemade pizza for my kiddo
*Hubbs made it possible for me to start lap swimming…even bought me two pair of goggles
*The blessings & opportunities for growing masked as hard lessons

I marvel at the gift of this life…so very thankful; may I use it as You would have me to, Jesus. May the hardness prompt me to allow my life to be built on You; impel me to become strong in the Truth; lead me to overflow with gratitude...